Traditional hospitality in a modern environment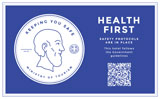 Welcome to ACHILLION PALACE, the most comfortable and friendly hotel in Rethymnon.
It is situated in the most beautiful quarter of the city, just a breath away from the seafront and very close to the entrance to the old settlement, whose narrow streets lead to the imposing medieval castle and the picturesque Venetian port.
Modern and well-organized, it perfectly blends unique comfort with the traditional Cretan hospitality and aspires to become the ideal base for your activities in the city or your escapes in the greater area.
ACHILLION PALACE heartily welcomes you, ready to make your stay truly memorable.