Service Directory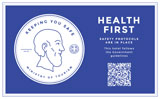 «Kalosorisate» Welcome !
We welcome you to our hotel Achillion Palace in Rethymno. The ownership and employees are determined to make your stay on one of Greece's largest and most beautiful islands, a pleasant and memorable one.
This hotel directory has been designed to ensure that you have been given all the necessary information regarding the facilities and services we offer.
If you have any further enquiries, please contact Mr. Thanassis Frangidis, our manager who will be more than happy to assist you.
We want you to enjoy your stay with us!
ADAPTORS
Bedrooms are equipped with multi-purpose plugs. However if you need any assistance please contact the Reception Desk. The hotel's electrical supply is 220 Volt.
BABY COT/BABYSITTING
Baby Cot's are providing after request and free of charge. The reception could also organize your babysitting
BANKS – EXCHANGE
The nearest banks are in the town of Rethymno 100m from the hotel and are open Monday – Thursdays 08.00 – 14.00 and Fridays 08.00 – 13.30hrs. Please contact the reception for information about the closest ATM.
BREAKFAST
Breakfast is served in the Restaurant as follows
06:00-07:00 Early Continental breakfast upon request one day in advance
07:00-10:00 Breakfast buffet with a Cretan corner
BUS SERVICE
Timetables are available at the reception. As there are no bus conductors, please ensure that you buy your bus ticket before entering the bus. These tickets can be bought at the square close to the hotel or at the bus station.
CHECK-OUT TIME & KEYS
12.00 noon. Guests wishing to extend this time should contact the Reception before 10.00 am on the same day. We kindly ask that you check with our Reception Desk when handing in your key if any account is left unsettled.
Please always return your key card to the Reception when you are not in your room.
CONFERENCES & MEETINGS
The hotel has conference and banqueting facilities. For further information please contact the Hotel Manager.
CREDIT CARDS
All credit cards are accepted: American express, Diners Club, Visa, Eurocard, Mastercard, Access. Please ask at the Reception for further details.
DOCTOR / DENTIST / MEDICAL CARE/ FIRST AID
In case there is need for this service, a Doctor is on Emergency-Call at all times. First aid kits are available at Reception.
DO NOT DISTURB / MAKE-UP MY ROOM
A "DO NOT DISTURB" card and a "MAKE UP MY ROOM" card can be found hanging on the door of your room.
EMERGENCY EXITS/ FIRE PRECAUTIONS
Clients should familiarise themselves with the Emergency Procedures displayed in the room. In case of fire please use the staircases. DO NOT USE THE LIFTS.
There are fire extinguishers in each corridor. A fire sprinkler system operates in all public areas and corridors. In the event of fire, please advise the telephone operator and leave the building immediately. DO NOT SMOKE IN BED.
EXCURSIONS / CAR RENTAL
Information on excursions, car rental, scooters and bicycles is available at the reception.
LAP-TOP / TABLET
At the reception we also have a lap-top and a tablet which can be used free of charge upon request/availability
LAUNDRY – DRY CLEANING – PRESSING
Available with surcharge. Please contact the reception
Regular service 2 days
Pressing 1 day
Express service 50 % surcharge
We regret there is no service on weekends or on public holidays.
LOBBY BAR
Opening hours : 18:00-22:00
After you return in the evening you can enjoy a glass of Cretan wine or a cool beer at the lobby bar whilst relaxing in the hotel's own garden.
LOST & FOUND PROPERTY
Please contact the Reception.
LUGGAGE SERVICE
For luggage service please contact the Reception.
MAIL – POSTAL SERVICE – STAMPS – EXPRESS COURIER SERVICE/MESSAGES
Incoming mail and messages will be kept at the Reception.
MEALS
Please contact the reception to organize your meal with an external restaurant.
MUSEUMS
Please ask at Reception for details.
POOL BAR
The Pool bar is situated on the roof of the hotel on the 6th floor.
Opening hours:
a: during the low season 11:00-19:00 b: high season 11:00-20:00
Enjoy a nice drink, coffee or small snack on top of the hotel with a view over the town- harbour of Rethymnon, whilst lying in the sun
PARKING
For our guests there is a big parking area at the Marina which is situated 250m from the hotel.
RECEPTION
24 hour service. Dial 9
REFRIGERATOR
There is a mini fridge in your room.
ROOM SERVICE
Room Service is available 24 hrs. Please contact the reception 9.
ROOM TOWELS CHANGE
Service available on request basis, please contact reception
SWIMMING POOL
The swimming pool is located on the roof.
Open daily from 11:00 to 19:00 hrs. (From April to October)
PILOW CHOISE
Please contact the Reception.
TAXIS/TRANSFERS
Please contact the reception to organize your transfer.
TOWELS CHANGE UPON REQUEST
Can you imagine how many towels are unnecessarily washed every day and the great amount of washing powder needed which thereby pollutes our water? Please decide: towels thrown into the bath tub means: "PLEASE CHANGE". Towels hung on the towel rail means: "I'LL USE IT AGAIN – FOR THE SAKE OF OUR ENVIRONMENT". Please notice that it is not allowed to use these towels outside of your room. The guest is charged with any damage or loss. Daily towels change upon request, please inform the Reception.
SWIMMING POOL
The swimming pool is located on the roof. Open daily from 08:00 to 20.00 hrs(from April to October)
WAKE-UP CALLS
Please see your telephone directory or contact the reception by dialling 9.
WIFI
All rooms and public areas have access to free Wi-Fi , code : 10203040
At the beginning and at the end of the season it is possible that there are changes in the above timetables due to weather conditions and time changing.