A beautiful town with many faces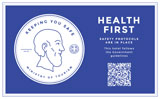 Historical Rethymnon, the third largest city of Crete, is the centre of a thriving tourist area which has turned to account the competitive advantages that were bestowed upon it by nature, history and local tradition.
Resembling a modern big city that bustles with life, it has yet managed to maintain in its heart the memories of the past, reflected in the narrow streets and the facades of the buildings of the old city – one of the best-preserved Renaissance settlements in Europe.
In the shadow of an imposing medieval castle, by the old port that survived intact through the ages and very close to the sandy beach of Rethymnon, lies the old city. Full of sights and loaded with Venetian and Oriental elements that have merged in the course of time, Rethymnon is a living museum of the history of the area, as well as the hub of its modern tourist life.